Windermere Real Estate South Whidbey invites you to join us in the spirit of giving this holiday Season!
The Coats for Kids charity drive is back in action for the 2020 Holiday Season!  Windermere Real Estate South Whidbey is partnering once again with Readiness to Learn to spread goodwill and the spirit of giving throughout our community.
Windermere Real Estate South Whidbey
Windermere Real Estate South Whidbey
Windermere Property Management South Whidbey director Paula Peters is once again spearheading this event to bring the Whidbey Island community together to get our island youth bundled up and ready for the winter.
Windermere Real Estate South Whidbey
Windermere Real Estate South Whidbey
Coats for Kids Whidbey Island aims to collect and donate coats, boots, gloves, scarves, hats, and other warm clothing to help the infants, kids, & teens of Whidbey Island stay warm all winter long. Over the last three years we have collected over 300 donations that have been provided to the Readiness to Learn Foundation. These efforts were met without hesitation as our community and co-workers have a "See a need, fill a need attitude".  Windermere South Whidbey and the Readiness to Learn Foundation have been able to provide for the needs of young children from toddlers to young adults and includes a few high school students who are in a home transition. 
Windermere Real Estate South Whidbey
Windermere Real Estate South Whidbey
Staying warm and dry is a necessity and has been proven to help facilitate a better learning experience for our children and helps in the transition for those older students as they move from schooling into the workforce.
Windermere Real Estate South Whidbey
Join us in donating! Our Windermere Freeland and Langley offices are accepting donations of new coats, jackets, rain boots, gloves, and scarves…and we have been known to donate pairs of warm socks over the years!  Check out the events page HERE
Windermere Real Estate South Whidbey
Many people are starting to realize that racism is a lot more widespread and day to day than most realized…
One of the first questions people are asking themselves is What can I do? What should I think?
At Windermere on Whidbey Island, we know that knowledge is empowering and clarifying when times are stressful and people are confused. It sounds like it's almost too easy but it's absolutely true that one of the best things you can do is listen, read, and watch with a heart to learn more. This is a shortlist of high-quality talks, videos, animations, and articles we think will help to get you started. There are thousands more. If you have a recommendation please leave it in the comments below. Thank you for showing up to this issue.
Why what has happened recently is such a big deal…
Trevor Noah on current events (18:12) https://www.youtube.com/watch?v=v4amCfVbA_c
For those with young kids this short video may help explain racism…
Book reading of "Something Happened in Our Town" (8:50) https://www.youtube.com/watch?v=lcOhOFGcWm8
Why being color blind is not a good thing…
TEDx Fighting to be Seen in a Colorblind World by Traci Ellis (14:34) https://www.youtube.com/watch?v=xqvZRO2LPmw&t=101s
What does white privilege mean…
Sociology Live explanation (4:09) https://www.youtube.com/watch?v=ZLgbw_A1mLI
A talk about Charlottesville by Brene Brown (12-32 min) answer begins around 3:30 https://www.facebook.com/brenebrown/videos/1778878652127236
What is systemic racism…
Explanation of how our systems have been built in a racist way (4:23) https://www.youtube.com/watch?v=YrHIQIO_bdQ
Help in understanding the big picture with racism by academic Robin DiAngelo…
A book option: https://www.amazon.com/White-Fragility-People-About-Racism/dp/0807047414
An article option: https://www.theguardian.com/world/2019/feb/16/white-fragility-racism-interview-robin-diangelo
How the Real Estate industry has contributed to racism…
Explained, Racial Wealth Gap (16:12) https://www.youtube.com/watch?v=Mqrhn8khGLM&t=34s
The Disturbing History of the Suburbs (6:19) https://www.youtube.com/watch?v=ETR9qrVS17g&t=7s
Real Estate Investigation: Testing the Divide (41:17) https://projects.newsday.com/long-island/real-estate-investigation-videos/
How a Real Estate brokerage should be talking about racism https://www.redfin.com/blog/its-not-enough/
Pristine 2-Bedroom End-Unit Condo Awaits in Premium Mariner's Ridge Community in Anacortes
Offering the opportunity for low-maintenance living and completely move-in ready, this 2-bedroom, 2-bath condo in the premium Mariner's Ridge community presents a fantastic opportunity! Not only has this spacious 1,114-square-foot home been lovingly cared for over the years, but the community association keeps your surroundings looking pristine. $220/month covers common area maintenance, garbage, and lawn service, meaning you have more time to spend on the things you love! 
Located at 3614 Portage Lane 100 Anacortes, WA 98221 on the eastern hillside of Anacortes and close to NAS Whidbey, Anacortes Community Forest North, grocery shopping, restaurants, and more. This condo is listed for $329,000. 
Featuring a captivating blend of modern nautical exterior architecture and northwest craftsman interior finishes, this condo is sure to inspire pride in ownership each time you arrive home. Picturesque mature landscaping leads you right to your front door, and the end-unit location ensures you have a peaceful, quiet atmosphere and extra privacy. Gorgeous hardwoods guide you into the main living area, an open-concept space where abundant natural light cascades in through tall windows. 
The well-appointed kitchen shows off a smart layout replete with generous cabinetry storage, shimmering granite counters, and sleek stainless steel appliances. Several electrical outlets make it easy to put appliances to work while you whip up home-cooked meals or spend the day baking, and the breakfast bar allows you to entertain with ease. The dining area is just steps away and overlooks the living room, a bright and airy haven designed with entertaining in mind. From here, sliding glass doors lead to a private patio and a lush lawn that extends your living space even more, and you can relax out here all summer long! 
This condo's 2 bedrooms and 2 baths provide flexibility, and the master suite is especially not to miss. In addition to a spacious bedroom layout where large windows fill the retreat with rejuvenating natural light, there's also a walk-in closet and a sumptuous 5-piece ensuite bath. Spa-inspired amenities rest alongside a palette of neutral-hued finishes that make indulgent bubble baths and wellness routines all the more luxurious. 
Living in Anacortes 
At 3614 Portage Lane 100 Anacortes, WA 98221, you're tucked away in Homestead Northwest's premium Mariner's Ridge Community. Located on the eastern hillside overlooking Fidalgo Bay, this community not only offers the possibility for an easy "lock up and go" lifestyle, but you're also merely minutes from local conveniences. From here you're only about a 17-minute drive to Naval Air Station Whidbey, and you'll find schools, grocery stores, the library, restaurants, medical services, the marina, and much more no more than a 10-minute drive away. 
For those who love adventuring outdoors, you're also surrounded by opportunities to spend time out in the fresh air! Just around the corner, you'll find the 2,800-acre Anacortes Community Forest North, an expansive park network that includes lakes for fishing, well-marked and maintained trails for hiking, mountain biking, and horseback riding, as well as scenic wetlands, meadows, and old-growth forests. 
For more information about this Anacortes home, click here! You can also get in touch with REALTOR® Holly Reynolds at holly@whidbey.com and at (360) 914-7585 for more information about this property.
Ahem… I mean yes, it is an excellent time to sell. However, we don't want to just tell you our professional opinion. We will show you and we will make it simple.
Prices keep rising.
There are not enough available homes for the number of buyers ready to buy.
Demand will keep prices rising.
Let's start with point #1: Prices keep rising.
This chart shows the median sales price since the beginning of 2015 for residential homes + condos. Pretty steady upward trend. Would you like another data point telling the same story? Ask and you shall receive…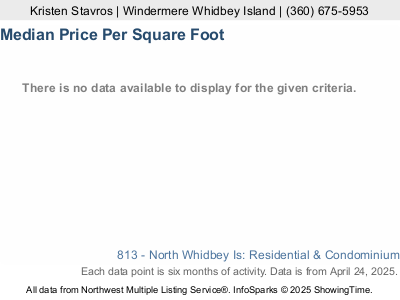 This chart shows you the median price per square foot since the beginning of 2015 to now. Again, pretty easy to see what's going on here.
Let's look at point #2 a little closer: There aren't enough homes to satisfy all the buyers out there.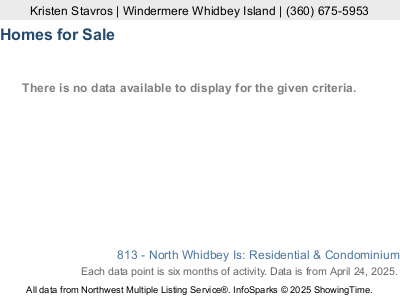 As you can see by this graph of the number of homes for sale there are consistent seasonal variations but the overall trend has been a precipitous downward slope.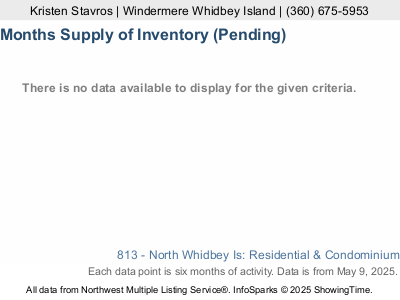 This is another way to look at the same story but takes into account how many homes are going pending (or being sold). North Whidbey only has 1.2 months of inventory (pending). This means that if homes kept selling at the rate they are and no new listings came on the market it would only take 1.2 months to completely run out of homes. Anything less than 4 months indicates a seller's market. We've been in a seller's market since 2016 but it just keeps going down and we are now at a dramatic low.
OK now for Point #3: Demand will keep prices rising.
This is just basic supply and demand economics. When demand exceeds supply, prices rise. Until we have less demand, or the supply of homes comes up to meet the demand we will continue to see home prices inch their way up. For homes in good condition, with quality upgrades that have been well maintained and professionally presented, we are seeing a much bigger bump in what buyers are willing to pay.
To see a few examples of recent homes that were expertly staged and prepared for the market to help sellers fetch top dollar check out these beauties…
Keep an eye out for our next post addressing the BIG question on seller's minds when contemplating taking advantage of this amazing seller's market…
We will also address the fact that we actually have two markets happening right now. If you are in the lucky position to sell a home under 400k to move into a home over 600k this is the perfect time!
If you enjoyed this post you might also like:
When it comes to the struggle of entertaining quarantined kids,
Windermere moms get it!
Like many of you, we have spent the last few weeks cooped up in our homes with our families and have been trying desperately to keep entertained. Through the weeks our "Windermoms" have discovered their favorite activities to do with their kids and want to share them with you!
Rock Painting
One of my daughter's favorite things to do is painting. And she loves to paint anything and everything! So I introduced her to painting rocks! We love to look for painted rocks when we are out and about and she wanted to make some for us to hide when we are at parks and on trails. During this time where parks and trails have been closed, we have enjoyed painting them and talking about all the fun we will have hiding them in the near future. This is an especially great activity for a rainy day. – Rachel Bennett
Cooking Together
My family has really enjoyed cooking together.  My kids pick a theme, research the recipe they want to make, and they each are responsible for a portion of dinner. It's been great together time and they are loving being challenged with recipes we've never made. – Marissa Evans
I was born and raised in Italy and food has always been a profound part of my life. In everyday life, families gather around the table and enjoy each other's company over the delicious homemade meals prepared. For most of us, it's like an art and I find joy when I'm able to recreate for my son those traditional dishes my mom prepared for me when I was little. I always find comfort and relief in cooking, especially baking. The smell of freshly baked bread always brings back memories of me and my mom baking several loaves of bread in our country home. Sliced with homemade olive oil, oregano, salt, and crushed red pepper flakes … yum! Fresh ingredients, colorful dishes, great company, and a bit of wine. What's not to love? – Simona Groves
Our favorite activity since we've been in quarantine has been cooking. We've made everything from coffee drinks, pizza, cookies, scones, macaroons and my daughter picked out a recipe and made Teriyaki chicken for dinner.  A lot of times we will think of things to make and be like "oh, we do not have time," well now we've found the time to make or try all kinds of different cooking and baking. She FaceTimed a friend who was guiding her through making macaroons. I've always loved to cook and bake, so sharing that with her is fun! I feel like cooking together helps her to learn to cook and cooking is an activity the whole family can benefit from. – Kate Hauter
Hatching Chickens and Starting a Garden
During this stay home with my daughters (16 and 19) it's been such a change for our family with no sports or school. We decided to do something we have always wanted to do but never had the time. Hatching chickens from eggs and starting a huge vegetable garden. The quarantine made the 21 day wait time for babies go quickly and we even decided to do another round. 🐣 Working together to plan and plant our garden was a big and rewarding task! Loving my time with my girls. – Konni Smith
Getting Outside

Play Outside! Embracing your inner child during this stressful time can be so uplifting! Jump-rope, laugh, play, kick the ball around, collect rocks, or just go on walks with your kids! Being outside makes it all better; from taking turns doing tricks on the trampoline with photos-ops to just laying on the grass or on the bow of a boat watching cloud formations… it's all an innocent diversion to the daily stresses of working/schooling from home and the constant bombardment of news. Enjoy! – Jennifer Wynn
I absolutely enjoy outside time with my son! Since he was an itty-bitty infant being outdoors has been an integral part of our relationship. Outdoor space was what brought us to Washington state and Whidbey Island. I wouldn't give up my son or my lifestyle here for anything. – Anita Johnston
My littles and I are soaking up the sun while running and playing tennis! We especially enjoyed building a backyard fire pit, roasting marshmallows, and backyard camping together. – Kareena Gonzalez
We have created a challenge for our kids to walk every bit of trail in the Fort Ebey/Kettles Trail system. We downloaded and laminated a map for each of them from the Island County Website (CLICK HERE).
They are planning out the day's walk, learning to navigate, reading a map, collaborating, and getting physical activity. They are also finding new species of plants and trees on their walks and bringing home samples to ID and glue to our big poster board for us to refer too and quiz the kids on. It might sound serious but it's actually super fun and has been a neat challenge! – Kristen Stavros
If you enjoyed this you might also like:
Serious Buyers
For those buyers who are actively searching
for a home be prepared to follow local, state and the National Association of Realtors offers guidelines for looking at homes safely with tips like:
Buyers wash their hands or use an alcohol-based sanitizer before entering the home and again after leaving.
Cover shoes with booties.
Wear facemasks.
Clean all surfaces prior to entrance and again after.
Sellers will hopefully open doors and turn on lights prior to potential buyers entering to reduce the need for them to touch surfaces.
These requirements may stay in effect for some time so if you are ready and willing to buy a home with a trusted professional who has your best interest in mind and are taking the lead on this new eras, approach to home buying then let's connect so we can help you navigate your move through this uncertain time.
If you liked this you might also like:
A New Era in Marketing Your Home
Considering the recent chain of events surrounding the stay at home orders due to COVID19, it is more important than ever to be working with an agent that has a successful online marketing strategy and an effective digital game plan.
Since you are reading this you are already headed in the right direction. Let's keep going!
Here at Windermere
Not only are our agents equipped with the most up to date tools and resources available but they are the most talented professionals in our industry and backed by the strongest brand in the whole Pacific Northwest.
The Utmost Importance
During the stay at home order, it is of the utmost importance to provide potential viewers with a detailed and thorough view of your home safely online since it is difficult to see in person.
Our agents have always been dedicated to ensuring your home stands out from the rest by providing the highest quality photography and video walkthroughs available. Our agents are well versed in creating maximum online exposure through virtual open houses & tours providing additional focus on the home's details and answering questions that buyers relocating to the area will have. Windermere agents did this long before COVID-19 and are give Sellers maximum exposure to buyers and maximum safety for the Sellers. Working with a Windermere Whidbey agent means the following:
Access to the best photographers.
The know-how and experience to shoot personalized video tours and hold virtual open houses.
The know-how to market appropriately in COVID-19 times, in a timely fashion, safely, and deliver the greatest exposure.
The ability to video chat with potential clients.
If you enjoyed this you might also like: