One of the very best things about autumn on Whidbey Island is being able to support all of our local farmers! Whether you're looking for a Whidbey Island pumpkin patch recommendation or you're new in town and want to start a tradition, you'll find 3 excellent choices right here:

The Farm Stand at K & R Farms
Located at 36699 SR 20 Oak Harbor, Washington
Every Friday and Saturday night throughout October, you can embark on The Farm Stand's Flashlight Corn Maze. The maze is open from dark until 10pm and is free for customers with a purchase. (A limited number of flashlights are available to rent if you don't have one.) RSVP on Facebook here so you don't forget! You can also stop by for fresh produce and of course, make time to go for a walk in the pumpkin patch.
Case Farm
Located at the end of Case Road Oak Harbor, Washington
Case Farm has been around since 1898, and they have been proud farmers for 5 generations now. This year they started a farm stand at the end of the pavement on Case Road where they sell an assortment of produce. 
You can even stop by just to say hello to their animals (cows, turkeys, ducks, chickens, cats, and dogs)! Enjoy picking out a pumpkin in their field or buy some harvest decor and fresh fall produce while you're at it. Little ones can take a turn at a toddler-friendly bale maze.
Case Farm also hosts educational visits for school and preschool groups to teach them about farming—visit their Facebook page for contact info!
View this post on Instagram
Sherman's Pioneer Farm
Located at 46 S Ebey Rd Coupeville, Washington
Established all the way back in 1852, this Whidbey staple shines extra bright when October comes around. Visit Sherman's Pioneer Farm to stock up on pumpkins, edible squash, and gourds; go for a trolly ride to the pumpkin patch; pick up fresh pies and other baked goods; visit their cows, and more. In previous years they've had a hay bale maze and a haunted house too—and of course, there are photo ops around every corner!
View this post on Instagram
View this post on Instagram
Written by:
If You Liked This You Might Also Like:
We all know moving can be stressful…
but have you stopped to consider how a move can affect your pets?
Here are a couple of suggestions to consider while moving to help make the transition easier on both you and your pets.
Contact Your Vet:
Let your pets' vet know that you will be moving. Your vet can provide you good information for the best way to move with your pet and make sure you have enough medications for the duration of the trip. They can answer any questions you have and they might even be able to help you find a good vet in your new location if you are moving out of the area. Do not forget to get your pet's records before you move.
Best Friend's Veterinary Center
33285 WA-20, Oak Harbor, WA 98277
(360) 679-6796
North Whidbey Veterinary Hospital
1020 NE 7th Ave #4, Oak Harbor, WA 98277
(360) 679-3772
107 S Main St, Coupeville, WA 98239
(360) 678-6046
Central Whidbey Veterinary Services Inc
771 Patmore Rd, Coupeville, WA 98239
(360) 678-1881
Create a Moving Kit:
Gather supplies to keep your pet comfortable during the travel and supplies on hand for the first several days of unpacking.
Pet food
Food, Water, and Bowls
Medication
Grooming tools
Toys
Blanket
Poop Bags
Leash
Treats
Documentation and a picture
The Day of Packing:
Our pets feel anxieties, just like we do when things change around them. It is best during a move if you can keep them away from all the action. A simple option is often putting them in a kennel or letting them stay with a friend. If you cannot or do not want to do either of those; try making a quiet room in the house where they can safely stay away from all the hustle and bustle. It is also important to check on them often and try to walk them when you normally would.
Things to remember:
Make sure they have enough ventilation
Make sure they are not too hot or too cold
Make sure they have enough food and water
Let them have some toys
 
Taking Your Pet With You:
When possible, it's best to travel with your pet to curb their anxiety. There are a lot of factors to consider when deciding the best way to transport your pet such as their age, temperament, size, and species. Regardless, it's always important to ensure your pet's safety when traveling which is why we have included a few links below with helpful pet gadgets.
Do Not Go Off-Leash in Unfamiliar Areas:
Remember that new locations mean unfamiliar areas. If your pet gets out while traveling they might get lost. Additionally, when you get to your new home it is important that you take the time to be with your pet to discover the new area so they don't get lost and can find there way back to their new home. This is also an important reason to bring documentation and a picture of your pet with you in case they get lost.
Introduce One Room at a Time with Familiar Items:
Consider setting up one room first with familiar items for your pet to stay in while you prepare the rest of the house. Give your pet a lot of attention and slowly introduce them to each new room giving them plenty of time to adjust to their new surroundings and familiarize themselves with the new setting. You also might consider crating them when you leave them alone for the first few weeks. New environments can cause pets to break house training.
Things to do When You Get to Your New Location:
You might also like:

It is that time of year when the fruits of our labors begin filling up not only our dinner plates but also become an integral part of beautifying the spaces around us. You guessed it, we are talking about SQUASH.
If you are anything like some of these green thumb agents, you have spent the past several months pouring your heart and soul into your garden prepping to produce these beautiful and tasty gems. But it is quite possible that you now have so many you do not know what to do with them. If that is the case keep reading for places you can donate your extras…. like my office.
Perhaps you are more like those of us that take advantage of the local Farm to Table programs our local farm community has to offer. You may have begun to receive these tasty treats in your special boxes. Keep reading to discover one of my favorite recipes.
BUT….maybe your most like me and you are… "Growing them…well… in the grocery store". Let's be honest autumn is my favorite time of year, but I wasn't blessed with a green thumb. I am more like a big kid eagerly waiting for Shermans Farm to open so I can enjoy the full experience of finding the perfect squash for tonight's dinner. I like sipping my warm cup of cider while riding on the tractor taking in the beautiful Whidbey farm views and snapping pictures of my kids next to the biggest pumpkins they can find.
Regardless of who you are, there is one thing we all have in common this season. We will all come into contact with SQUASH!
The majority of people will likely only use them as decorations, and that is ok. There is no denying these power-packed veggies are beautiful and studies show that sprucing up the space around you will make you feel happier. So, first things first…
Let's Get Crafty:
CENTERPIECE
It can take as little or as much creativity as you desire. Place a variety of squash together with some leaves, flowers, candles, or acorns to spruce up your gathering space. For more inspiration follow one of our favorites local to our area: Erin Benzakein, founder of Floret. Floret is a Skagit Valley family-owned farm and seed company and New York Times Best Selling Author of A Year in Flowers for tutorials on arrangements.
OVERSIZED ACORN WITH ACORN SQUASH
Supplies you will need:
Hot Glue Gun
Hot Glue
Twine
Acorn Squash
Begin by placing a dab of glue at the top of your squash. Make a loop in the twine and attach the top of your squash. Place glue around the top ¼ of the squash and being laying your twine in a circular motion starting at the stem and continuing down to a ¼ of the squash, carefully laying each layer of twine up against the last.
---
For the Tummy:
Most importantly, squash provides a plethora of nutrients for our bodies. It is quite literally called a power-pack veggie. They are high in Vitamin A, B6, and C, folate, magnesium, fiber, riboflavin, phosphorus, and potassium.
The best thing about squash is that there are so many ways to eat it. I love it SO MUCH I am attaching one of my simple favorites.
BAKED ACORN SQUASH WITH BUTTER & BROWN SUGAR
Serves: 2-4     |      Preparation: 10min     |     Cooking: 1 HR 15 min
Ingredients:
1 Acorn squash

1 Tbsp Butter

2 Tbsp Brown Sugar

2 teaspoons Maple Syrup

Dash of Salt
DOWNLOAD THE FULL RECIPE CARD HERE!
---
Uplift the Community with Your Extras:
With all joking aside, if you have been blessed with having too much squash this year, the North Whidbey Help House in Oak Harbor, and Good Cheer Food Bank in Langley would love to have your donations.
Stay blessed. Have a favorite squash recipe or idea you want to share? Let us know in the comments below.
If You Enjoyed Reading This You Might Also Like:
If you have been out exploring Whidbey recently, you might have noticed an abundance of furry four-legged creatures. It's not much of a secret that Whidbey Islanders LOVE their dogs. As self-proclaimed "outdoorsy" people say, they are the perfect pet to have with you when hiking trails, swimming at the beach, and exploring places like the abandoned military installments of Fort Casey and Fort Ebey. 
Although exploring all the crevices of Whidbey is amazing, dog owners know there is something special about enjoying time off-leash with their furry friends. Luckily, Whidbey has some INCREDIBLE off-leash dog parks scattered throughout the island. We have listed our favorites below! 
Although this is one of the smaller parks on Whidbey, Clover Valley is well-loved and frequented by dog owners in Oak Harbor. The fully fenced-in park provides owners the opportunity to socialize their dog in a safe environment while they build friendships with other owners in the area.
View this post on Instagram
Patmore Pit is the largest off-leash dog park on Whidbey. This fully fenced 15 acres of mixed terrain allows owners and their pups the opportunity to enjoy themselves for hours.  The park has 3 meadow areas, 2 wooded areas, an agility course, and a smaller area for more timid dogs.
View this post on Instagram
Anyone who has ever visited Greenbank Farm knows that the surrounding area is incredibly beautiful with views of our gorgeous waters on either side and an abundance of trails. But did you know there was an off-leash area? Just north of the farm, you will notice they sectioned out parcels of land for low-impact recreation including off-leash play! It's a wonderful place to explore if you get the chance.
View this post on Instagram
Have a water dog that LOVES to splash in the sea? Then you will love taking them to Double Bluff Beach. This location offers pets and owners a two-mile-long stretch of beach to play on without the nuisance of leashes to restrict your dog's enjoyment.
View this post on Instagram
This fully fenced 13- acre park offers dog owners peace of mind when allowing their dog to explore the various trails and meadows. Central gathering areas provide owners the ability to socialize with others while their dogs play.
View this post on Instagram
MAP
:
Plan your Trip to Langley
A Little History Before You Plan Your Trip to Langley
On the southern side of Whidbey Island along the Saratoga Passage lies the lovely little town of Langley. With a population of just over one thousand, this quaint town is home to a creative culture and endless entertainment.
Langley's history has led to its unique and diverse culture. Established in 1891, Langley served as South Whidbey's trading center for all types of goods with the wharf connecting island merchants to Everett and Seattle. In the 60s and 70s, that same wharf brought in a wave of hippies who would forever shift the culture of South Whidbey.
Although Langley's docks no longer see the traffic they once did, downtown is filled with remnants of the original trades-town married beautifully with the artistic culture of the mid-century hippies. It's quite a treat to visit. If you get the chance to spend a day in Langley and aren't sure what to do, you're in luck! We've created an itinerary for the perfect one-day trip in Langley. Just don't forget your mask and keep a social distance! 
Itinerary for Day Trip to Langley
Coffee at Useless Bay
Enjoy some amazing early morning coffee from this local roaster to give yourself an extra boost at the beginning of your day. Between the friendly baristas, great drinks, and buzzing atmosphere you'll be excited to return to this cafe over and over. 
View this post on Instagram
Breakfast at The Braeburn
BEST. BREAKFAST. EVER. Or at least it's hard to top. The Braeburn has an amazing assortment of breakfast choices ranging from light and sweet pastries to hearty mashes and breakfast burritos. There's something for everyone!
View this post on Instagram
Morning Stroll Down Seawall Park
When you make your way out of The Braeburn you might consider taking a stroll down Langley's Seawall Park. This seaside park is full of beautiful art that pays tribute to past island tribes and a walking path to help you get the most out of the beautiful view.
View this post on Instagram
Lunch at Ultra House
Ready for lunch? This ramen house is tucked away in the dead center of Langley village and serves absolutely incredible food! Enjoy slurping noodles and sipping broth and feeling like you're another world away.
View this post on Instagram
Ice Cream at Sprinklz
What better way to end lunch than with some sweets?! Sprinklz is a local favorite when it comes to ice cream. It's hard to beat their fun store or their incredible old fashioned ice cream. 
View this post on Instagram
Explore Downtown and the Star Store
Even though a few of the Langley shops have closed their doors during the pandemic, The Star Store alone could keep anyone's attention for quite some time. This century-old mercantile seamlessly transitions from produce to products and more. 
View this post on Instagram
End the Night at the Taproom at Bayview
What better way to end the night than with some comfort food and a good beer? Bayview Taproom provides that and much more. You'll love this community watering hole for its juicy burgers, kind servers, and joyful atmosphere. 
View this post on Instagram
-Why we are better together at Windermere
Many people think of real estate as a cutthroat competitive sales business akin to the dynamics that are portrayed on a TV show like Million Dollar Listing. The world is always pitting competition vs. collaboration against each other as if these two things are completely exclusive from one another.
This is why it is so darn refreshing when you see collaboration amongst "competitors," and it's something we see at Windermere all the time.
One of Windermere's core values is that we are all better together, and we are huge believers in the very different way Windermere real estate agents operate. But what does "better together" really mean? How does this play out in the day-to-day?
Of course, "better together" in part refers to the collaboration aspect in real estate. No one doubts two heads are better than one when it comes to problem-solving, and how about ten heads or a whole brokerage full of knowledgeable professionals to draw from? In our brokerage, a seasoned agent or a total newbie who comes up against something unusual (which happens more often than you would think) can easily pick the brains of agents representing 100's of years of experience. From in-person conversations to our Facebook group page; we encourage ideas, questions, new information, resources, and sometimes just funny memes. Real estate is about being creative, not taking no for an answer and problem solving like a maniac. Having a support group you can rely on results in miracles for your clients other agents can't produce.
"Better together" also means we have a lot of pride in the standard Windermere sets in the real estate industry. This translates to holding each other accountable when a colleague is delivering less than their best. For those of us who thoroughly understand the benefits of holding the real estate industry to a high standard, it literally hurts our hearts when we see agents acting in ways that are embarrassing for our profession and even worse, harmful to the client. This is why we believe in continually raising the bar on this industry so others have to stretch themselves just to keep up.
We take the idea of "better together" seriously but that doesn't mean we don't like to have fun doing it!
The video below was envisioned, orchestrated, and paid for by the agents. It is a pure collaboration amongst some of the most successful agents at Windermere in Oak Harbor who have intense respect for one another and understand that being better together helps everyone.
If you enjoyed this, you might also like:

Ahem… I mean yes, it is an excellent time to sell. However, we don't want to just tell you our professional opinion. We will show you and we will make it simple.
Prices keep rising.
There are not enough available homes for the number of buyers ready to buy.
Demand will keep prices rising.
Let's start with point #1: Prices keep rising.
This chart shows the median sales price since the beginning of 2015 for residential homes + condos. Pretty steady upward trend. Would you like another data point telling the same story? Ask and you shall receive…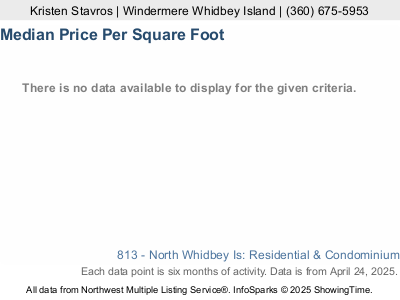 This chart shows you the median price per square foot since the beginning of 2015 to now. Again, pretty easy to see what's going on here.
Let's look at point #2 a little closer: There aren't enough homes to satisfy all the buyers out there.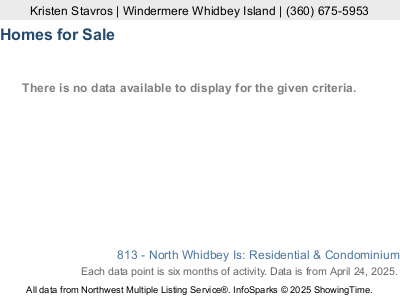 As you can see by this graph of the number of homes for sale there are consistent seasonal variations but the overall trend has been a precipitous downward slope.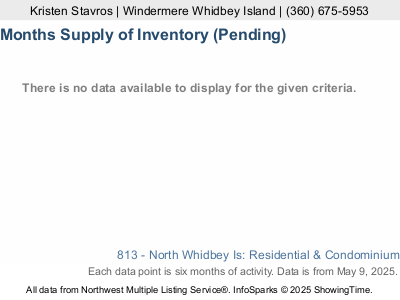 This is another way to look at the same story but takes into account how many homes are going pending (or being sold). North Whidbey only has 1.2 months of inventory (pending). This means that if homes kept selling at the rate they are and no new listings came on the market it would only take 1.2 months to completely run out of homes. Anything less than 4 months indicates a seller's market. We've been in a seller's market since 2016 but it just keeps going down and we are now at a dramatic low.
OK now for Point #3: Demand will keep prices rising.
This is just basic supply and demand economics. When demand exceeds supply, prices rise. Until we have less demand, or the supply of homes comes up to meet the demand we will continue to see home prices inch their way up. For homes in good condition, with quality upgrades that have been well maintained and professionally presented, we are seeing a much bigger bump in what buyers are willing to pay.
To see a few examples of recent homes that were expertly staged and prepared for the market to help sellers fetch top dollar check out these beauties…
Keep an eye out for our next post addressing the BIG question on seller's minds when contemplating taking advantage of this amazing seller's market…
We will also address the fact that we actually have two markets happening right now. If you are in the lucky position to sell a home under 400k to move into a home over 600k this is the perfect time!
If you enjoyed this post you might also like:
Matthew Gardner
Did you know that Windermere Real Estate is one of the only brokerages to have it's very own in-house economist?
Matthew Gardner is Windermere's Chief Economist and is responsible for analyzing and interpreting current economic data and the impact it will have on the real estate market. Matthew is a huge asset to the Windermere name and on March 12th Whidbey Island Windermere was lucky enough to have him give a presentation on our local market that was recorded and made available to all. Matthew addressed questions such as the following:
How will COVID19 affect the market? 
Does the current oil shock have any effect on real estate?
Are we in the middle of a real estate bubble?
When is the next recession? Will my home value plummet?
Is the housing and income gap still growing?
What's the market like in MY area?
Matthew Gardner Housing Forecast Whidbey Island from Windermere Real Estate on Vimeo.
In the recorded presentation below Matthew gives answers to all of these questions and more with his in-depth and comprehensive review of the current and projected state of the Whidbey Island real estate market. If you have questions after watching the presentation don't hesitate to give your local Windermere agent a call!
Now What?
The gifts are all open, friends and family have returned to their respective homes, the ball has fallen, and the kids are back in school. The holiday season has officially come to a close, leaving us with the annual question of "Now what?"
Although this question can be an ominous one correlating to all that life may hold for us in the coming 12 months, for many it also applies to right here and right now. The sudden calm after Christmas can leave people dazed or even in a state of shock when they realize they have a bit of post-holiday cleanup to complete. It can be hard to know where to start or what to do when it comes to reorienting your home back to normal. We are here to help with 5 After Christmas Activities.
Donate Old Toys
If you're like most families, the quantity of toys in your home this time of year probably spikes quite a bit. When new and exciting Christmas gifts join those that came before it can feel like you're living on the Island of Misfit Toys. Sneaking unplayed-with toys out of their room in the dead of night may be the easiest option but encouraging your children to choose which toys they would like to donate can help teach generosity, the importance of cleaning up, and critical decision making skills. Once you and your kids have decided which toys they can bear to part with there are a few choices on where you can donate. Below are some of Whidbey's second-hand shops and charities that accept lightly used toys.
Recycle Your Tree
Now for that (maybe less than lush) tree currently gracing your living room with its presence. It's always a little sad when the time comes around to take down the Christmas tree, but the end of its needle droppings is usually welcomed. What's not welcomed is the question of what to do with it. If you live in a house with a wood burning fireplace it might be a little tempting to chop it up and throw it in, but this is a BAD IDEA. When pine needles catch on fire they don't burn slowly like wood, but instead spark out in all directions which can be a huge fire hazard in a home. Instead, what you should do is deposit your tree at one of the island's Solid Waste drop-off locations where they can be put with other yard waste and recycled properly:
What You Can and Can't Recycle
"Did you know that household waste increases by more than 25% from Thanksgiving to New Year's?" (King5) It's little wonder why this increased waste occurs. However, it doesn't make the statistic any less startling. To put that in perspective, since the average American produces about 4.5 lbs of waste a day (EPA); Whidbey Island theoretically produces an additional 3,500 TONS of waste every holiday season. If there was ever a stat to make you want to recycle, that should be it! However, in order to be an effective recycler you need to know what can and what can't go in that little blue bin of yours. So here's a quick rundown of what can and can't go in your recycling bin.
CAN Recycle

●       Cardboard boxes

●       Plain paper boxes and bags

●       Plain wrapping paper

●       Holiday Cards (w/o embellishments)

●       Tissue paper

CAN'T Recycle

●       Bubble wrap

●       Cellophane

●       Tinsel

●       Plastic Bags

●       Holiday Lights

●       Ribbons

●       Bows

●       Foam Packaging
Give to the Food Bank
During the holidays it's very easy to get caught up in the good cheer and generosity of the season. But the time immediately after the holidays can be especially difficult for charities and food banks. The financial exasperation many experience directly after the holidays can cause an all out stop to donations for a while; but unfortunately, needs don't cease just because Christmas is over. Donating to charities and especially food banks is something critical to do throughout the year and not just in November and December. Below are some local food banks who could do a great amount of good with your post-Christmas donations.
Throw a Regifting Party!
We all have that one gift (or 5) that we simply didn't want or need. Yes, Aunt Kathy meant well, but what on earth are you going to do with a crochet pillow of her cat?? Often these gifts are begrudgingly placed deep into the depths of our closets never to be seen again (or at least not for a few years). However, it doesn't have to be this way! We know you aren't a fan of seeing Whisker's face on a pillow every day, but who is to say your friend Bethany might not LOVE it? Unwanted gifts don't need to sit gathering dust in the closet, especially when there's a simple solution of how to find someone who might actually find use or enjoyment in it.
Throw a Regifting Party!
Regifting Parties are basically White Elephants thrown after Christmas with the intention of finding better homes for those unwanted gifts. The concept and rules for the Regifting Game is simple and match White Elephant almost exactly. So makes some warm drinks, grab a few good friends, and have a great time discovering new treasures!
You Might also Like:

The adventures available on Whidbey never quite seem to end. Between wondrous hikes, quaint local shops, and astounding historical buildings there never seems to be an end to what this island has to offer. You might just start to believe Whidbey Island is perfect and we can't say we disagree.
Among Whidbey's countless opportunities is one for the more athletic individuals – cycling.
Whidbey Island is FILLED with amazing roads and trails perfect for individuals whose preferred method of transportation is two wheels. The centralized location of highway 20 and 525 draws motorized vehicles away from roads near the water, making them ideal for cyclers! Enjoy breathtaking views of the sound while flying down the rolling hills of the island or testing your resolve while going up them.
In fact, cycling is so popular that the island has its own club. The Whidbey Island Bicycle Club was formed in 2010 to "support, promote and educate about cycling on beautiful Whidbey Island." Through the years this group has teamed together with other island organizations providing resources to island cyclists (like this amazing Whidbey Island Bike Map!) including some pretty great cycling events. The best place to find their events is through their Facebook page.
Each summer cyclists come from all over Puget Sound to ride the Tour de Whidbey (on August 17th this year). With four different routes to choose from, this beloved island tradition is perfect for all cyclists regardless of their skill level. New riders can enjoy the short 10-mile ride circling Crocket Lake, while experienced riders with a passion for pushing the limits can test their skills with the POWER route that covers the entire perimeter of the island. To bring this event full cycle, all proceeds benefit Whidbey Health Medical Center.
Ready to gear up for your own cycling adventure and not sure where to start? We've talked to our resident cycle enthusiast and got the 411 on where to start:
Visit Skagit Cycle        

Located in downtown Oak Harbor on Pioneer, Skagit Cycle is a blessing to all Whidbey Island cyclists. The employees are knowledgeable and eager to help. Simply spend a few minutes with any sales associate and you will soon be out the door with exactly what you need to get your journey started. Check them out here. 
Safety First 

A dangerous mistake made by one too many riders is not taking proper precautions. Biking without a helmet or proper attire is a large risk that can cost your life. Make sure when to wear a helmet properly fitted to your head, clothes that are bright and easy to spot, and include proper reflectors/lights on your bike if you are going to be riding at night.
Try Crockett Lake
Crockett Lake (near the Coupeville ferry and Fort Casey) is a great starting point for any new cyclist. The low traffic roads and relatively flat area provide a ride that eases newcomers into the activity while still enjoying some spectacular island views. When you're done grab an ice cream or meal at Callen's Restaurant across from the ferry terminal.
So, get out there! You're sure to have a wheel good time.
You Might Also Like: